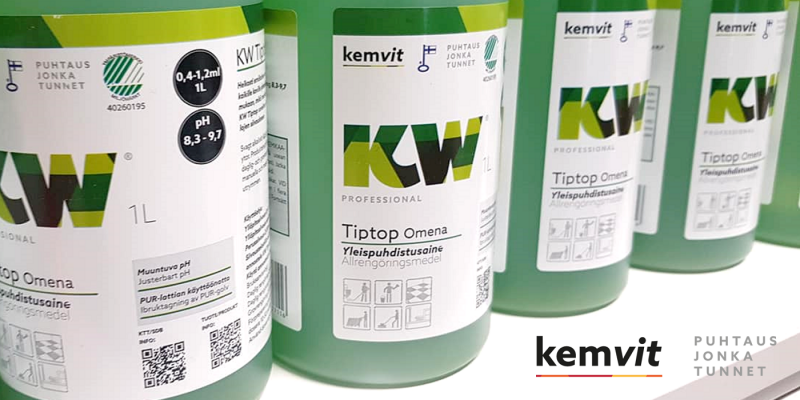 Terra Patris Ltd increased its holding in Kemvit Ldt to 50 percent and is now a joint owner with Kemvit's CEO's company U-nii Ltd. Kemvit Ltd celebrated its 30th anniversary and at the same time the change of ownership at the end of May.
"When one shareholder wanted to give up his share, this was a clear choice. Kemvit is a company in a good stage of development. We see significant growth opportunities in the industry both in Finland and in exports,"says Jari Löfroos, Chairman of the Board of Terra Patris Ltd.
"It's great that Terra Patris believes in domestic detergent manufacturing and is thus even more committed to operations," says Juuso Viherlaakso, CEO of Kemvit Ltd.
Kemvit Ltd is a Finnish detergent manufacturer in Alaveteli. They manufacture a wide range of efficient and environmentally friendly detergents for professional kitchens, professional cleaning, manufacturing, the food industry, agriculture as well as personal hygiene and textile care. Kemvit's KW product range includes Swan Ecolabel products, which tells about the environmental friendliness of the products, without forgetting the product's safety and quality.
The COVID-19 has clearly increased the demand for detergents and disinfectants. This has also been strongly reflected in the growth of Kemvit Ltd's sales.
"Covid-19 has mainly had a positive effect on sales of KW products. Our net sales have grown from EUR 2.9 million to EUR 4.9 million. However, we suffered from the closure of restaurants, because then dishwasher detergents were not sold at all, which is one of our strong areas," says Juuso Viherlaakso.
Kemvit Ltd has a stronger focus on the international market in the coming years, but growth potential is also seen in Finland.
"The year 2021 has been marked as the year of internationalization, with the aim of getting our label look in four languages. We will focus especially on the Estonian and Swedish markets in the coming years. In Finland, we are best able to grow by strengthening the technical service of professional kitchens. There is now a general demand for domestic products as well," says Juuso about the growth plans.
---
Kemvit Ldt is a 100% Finnish-owned company that manufactures detergents for professional kitchens, professional cleaning, personal hygiene, textile care, manufacturing, the food industry, agriculture, and laundries. The company has the capability to develop and manufacture cleaning products for all purposes, both liquid and powder, according to the customer's wishes and needs. They also do contract manufacturing. www.kemvit.fi
Kemvit Ltd's subsidiary, Lansas Trading Oy Ab, manufactures detergents for washing boats, cars and heavy equipment. Lansas exports concrete solvent, Finn Hammer, to 10 different countries and they also have an extensive boat cleaning series Boat Cleaner. www.lansas.fi