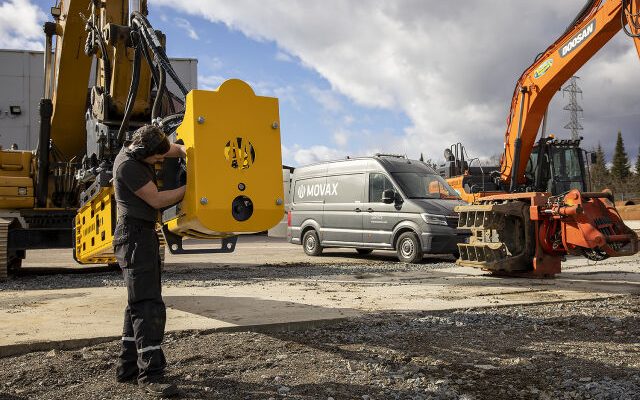 MOVAX mFleetCare™ include a wide range of services intended to maximize the reliability and availability of the MOVAX piling equipment. mFleetCare is preventive maintenance based on inspections, audits and updates, and regularly occurring, scheduled maintenance – but also maintenance and repair performed by trained professionals, fast spare parts deliveries and superior technical support utilizing the most advanced tools available – such as mFleetManagement. In addition, mFleetCare is also training services for both optimized performance and availability of the MOVAX Piling equipment.
MOVAX mFleetCare includes the following services:
MOVAX Piling Equipment audits
MOVAX Control System updates
Scheduled maintenance
Maintenance & repair
Spare parts
Technical support services
Training services
MOVAX Piling Equipment audits are carried out at Movax Oy's factory or at the customer's site. The audit includes the inspection of mechanical, hydraulic and electronic parts. As a result an inspection report with maintenance recommendations will be provided.
MOVAX Control System updates will ensure the benefits of all the latest upgrades and developments for optimised performance of the MOVAX piling equipment.
Together with the MOVAX piling equipment audits regularily scheduled or annually performed maintenance provides the basis for the maximum availability and reliability of the MOVAX piling equipment. The focus is on preventive maintenance ensuring trouble-free operation.
Maintenance & repair work is carried out by trained service specialists. The maintenance & repair work can be carried out by Movax Oy's own service engineers either at Movax Oy's factory in Finland or on-site anywhere in the world – or by Movax Oy's authorised and trained service partner in the region or country in question.
A large stock of spare parts ready for fast and quick delivery is carried by Movax Oy at the factory in Hämeenlinna. In addition, Movax Oy's authorised partners are carrying a local stock of the spare parts.
Technical support services are provided by Movax Oy's Technical and Service departments as well as the authorised local partners. Advanced tools such as the MOVAX Information Management System mFleetManagement is utilised to provide support and for trouble-shooting purposes.
Training is provided for both operators and maintenance personnel. Basic training, both operating and maintenance, is typically provided on-site during start-up and commissioning. Advanced training courses are arranged at Movax Oy's factory. The advanced operator training courses include theoretical training, simulator training and practical training supervised by Movax Oy's specialists. Maintenance training includes theoretical and hands-on training at the factory.