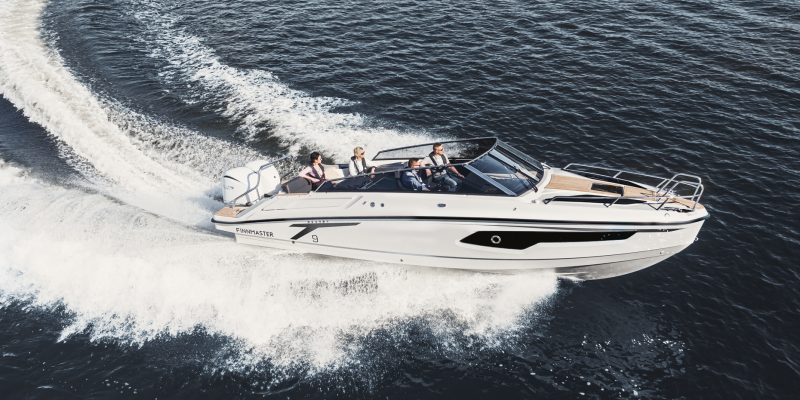 Welcome to this special launch of Finnmaster's brand new T9!
The livestream will be presented in www.livekatsomo.fi/finnmaster . The launch record can also be found on our channels after the event and on Finnmaster's website www.finnmaster.fi.
Livestream is 30 minutes and after the presentation, you will have the opportunity to ask questions from our product development and sales team about the boat Finnmaster T9. The launch is in English. The chat is open throughout the streaming and we answer questions in real time, in the chat the discussion is in English, Finnish and Swedish.
By combining power, space and passion, the new flagship of T series, The Finnmaster T9 adds unreachable lead, safety and unparalleled enjoyment of boating. This spacious dasycruiser is perfect for active boat owner. The large cockpit has plenty of room for several activities; water sports, socialising, dining, and in the lower deck you are able to spent overnight as comfortably as possible. Ergonomical driving characteristics make arriwing into destination secondary. Step onboard and the free time begins.
With the 360 virtual tour, you can step into the boat with one click and effortlessly view the various spaces and equipment of the boat on your own couch. See 360​​° demonstration here >>
Read more about the brand new T9 here. 
World premiere agenda
Welcome
Jari Löfroos, Chairman of the Board, Finnmaster Boats Oy
Launch of the Brand New T9
T9 Presentation
Henri Nurminen, VP and Sales Director, Finnmaster Boats Oy
Marine Engineering and Design
Jere Impola, Product Development Engineer, Finnmaster Boats Oy
Juha Kankkunen, Designer
André Noël Chaker is the host of the event.
The venue for the launch is the Joki Visitor Center in Turku, Finland.
You can watch the whole virtual launch recoding in Finnmaster Youtube channel: Finnmaster T9 – Virtual World Premiere 27.4.2021